The interview – Lucas Berruyer FGA – Gemmologist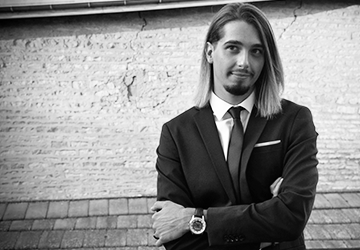 HELLO LUCAS, COULD YOU TELL US A BIT ABOUT YOURSELF ?
Hello, my name is Lucas Berruyer, I'm 23 years old and I was born in Valence. I grew up and went to school from the age of 3 to 15 in a town called Chatte in the Isère. In order to continue my apprenticeship I studied at the Amblard Vocational School in Valence where I took my Certificate of Professional Competence (CAP) (2013-2015) and then the National Diploma (Brevet) (2015-2017) in the Art and Techniques of Jewellery-making. I then went on to take another "CAP" in gem-setting (2017-2018), which I managed to do in just one year at the same time as taking my "Brevet" in gem-setting as an external candidate.
After obtaining these diplomas I didn't just want to stop there, so at the end of 2019 I went to Montreal in order to take the Gem-A diploma in gemmology (FGA) at the Montreal School of Gemmology (EGM). At the end of this 6-month course I graduated with honours (2020). The graduation ceremony in London was a particularly proud moment for me.
WHY GEMSTONES ?
I might seem a little odd but when I was a child I stumbled upon a TV programme about the top names in luxury jewellery in Paris and I was totally captivated. The jewellery pieces with their extraordinary shapes, but more particularly the precious stones which adorned them. The range of colours and shimmering hues have never ceased to fascinate me.  I am constantly amazed at how a gemstone can capture and reflect light in such a breathtaking way.
WHAT IS YOUR FAVOURITE STONE ?
Tanzanite, with no hesitation whatsoever! I am literally in love with the blue/purple colour of this stone when it is heated. And I am above all taken aback by the strong pleochroism it displays. Pleochroism is the magical way in which you can see different colours depending on the angle from which you look at the stone.
WHAT IS YOUR ROLE AT THE WORKSHOP ?
I mainly do jewellery repair, but also a little bit of assembling new jewellery (craftsmanship), as well as polishing, basically I'm like a "Swiss Army Knife"! I am also in charge of managing the Atelier's stock of gemstones.
YOUR FAVOURITE MARIUSSE & BONNET PIECE? AND WHY ?
My heart is torn between two… impossible to choose, so I'll pick two rings! First of all, there is the Maasai ring, for the magnificent Tanzanites that it has. Then there is the Winter ring for its shape, which I find magnificent, together with its beautiful pavé-set diamonds and sapphires.
CAN YOU TELL US ABOUT ANYTHING THAT HAS PARTICULARLY MARKED YOU AS A GEMMOLOGIST ?
The first one that comes to mind is the magical 2.05 carat pear cut diamond (E colour IF quality) that was mounted on a ring shortly before Christmas. Just unbelievable!!! I will remember that stone for a long time to come.