COMÈTE, A CREATION INSPIRED BY THE COSMOS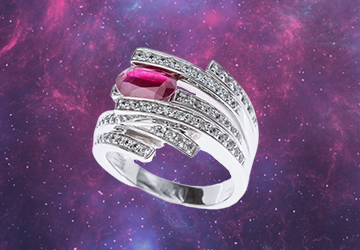 Comète, a creation inspired by the cosmos
ITS ORIGIN
The origin of this ring is more recent than other Atelier Mariusse & Bonnet jewellery pieces. Designed by the two co-founders of the Atelier, Philip and Christophe, this creation was initially put aside to leave room for those of other, already established, collections. But, as lovers of astronomy, the stars and the cosmos, the two men always had this ring in the back of their minds… So, after a few tweaks and verifications, the Comète ring from the Apogee Collection came to life. An ode to the farthest reaches of the universe, this piece of French Haute Joaillerie takes us on a celestial journey with elegance, splendour and femininity.
Paved with diamonds, the stones delicately set on this piece of jewellery add incredible sparkle and make the central stone stand out even more. The red gemstone, purposefully chosen by the jewellers, resembles a molten meteorite. The challenge to name this jewellery masterpiece was quite simple: Comète, a symbol of power, but also of the poetic mystery of space.
CHARACTERISTICS
Inspired by astronomic forms, such as star trails flowing through galaxies, the Comète ring showcases the Atelier's meticulous approach to its craft. Designed in perfect harmony between Philip Bonnet's gemstone expertise and Christophe Mariusse's jewellery craftsmanship, this ring is set with 0.57 carat of FVS diamonds. These high quality stones are all carefully selected in-house to obtain the very best finish and radiance for the piece of jewellery. In addition to the diamonds, the Comète ring also features a beautiful certified oval cut Ruby at its centre. With its dimensions of 8×6, this gemstone stands out not only in terms of size, but most of all for its colour.
Created to be comfortable and easy to wear all day, the ring, available on the Mariusse & Bonnet digital application, is crafted in palladium white gold. Its contemporary design introduces a fresh and innovative spirit to the Atelier, ideal for those who love surprising, authentic and celestial creations.
FABRICATION
Handcrafted by Christophe Mariusse and seconded by Philip Bonnet, this creation reflects the world of the Mariusse & Bonnet workshop and its two founders to a tee. Everything about this ring is delicate and the resulting design is resolutely modern, as is the whole Apogee collection. The ring is a nod to Philip's childhood dreams of becoming an astronaut when he was young boy, and it is crafted entirely in France. This is quite a feat, as every step of the manufacturing process, from design to packaging, is carried out exclusively in the Drôme, near Valence, something that is of particular importance to the two men. Thanks to their rigorous control of the products, their know-how and their recognised expertise in the French jewellery industry, this high quality ring is the result of many hours of work and allows lovers of fine jewellery to be transported into the precious, far-off and cosmic universe.
To learn more about the Comète ring, go to the Comète page or contact us at contact@mariusse-bonnet.com. Would you like to be inspired by another ring with a cosmic influence? Take a look at the Céleste ring. Our entire workshop is at your disposal to advise and assist you.