2020 to 2021, what is the future for Haute Joaillerie ?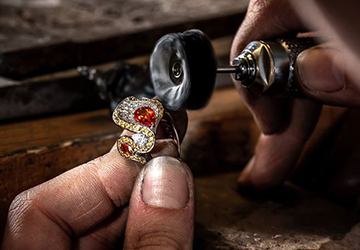 2020 to 2021, what is the future for Haute Joaillerie ?
2020 was challenging
With the global Covid-19 pandemic, the Jewellery and "Haute Joaillerie" sector has been the hardest hit in the Luxury Goods market. With a 23% drop in activity for the French Luxury Goods market in 2020 compared to 2019, shops closed, trade fairs were cancelled and customer appointments that were difficult to organise did not help the situation. According to information from the LVMH Group, the Watch and Jewellery sector has been subject to a sharp drop in demand abroad, mainly in China, which has led to a 30% drop in its stock market value. Like the Richemont group, which includes such leading brands such as Cartier and Piaget, this year the group has recorded a decline of -18%.
The figures are edifying, proving that no workshop is completely without risk, despite having a prestigious position on the national and international market. This was seen when unfortunately the De Grisogono company was obliged to close its doors for good. However, the end of 2020 marks a new turning point, one that demonstrates a real desire to live life to the full and to bring pleasure to others. With the help of e-commerce, the figures for 2020 are soaring. With +71% in the 2nd quarter compared to 2019, and + 55% in the 3rd quarter of 2020, according to the SalesForce Shopping Index, online sales, all categories included, are nearly the only ones to have experienced growth in 2020.
2021, the keys to a better year
2020 will have taught two things to the Jewellery and Haute Joaillerie workshops, the first is the importance of not resting on one's laurels, and the second, and most important, developing digital strategies. In 2020, there were 41 million online shoppers in France, 510,000 more than in 2019. These figures are on the increase and illustrate the benefits of digitising the Luxury Goods sector. However, there are now 11,900 additional active merchant sites compared to the third quarter of last year. It is therefore important to be present on the Internet, albeit in the appropriate way, without being swallowed up by the masses.
In terms of clientele, the pandemic has further widened the gap between different types of customers. People, who have not or hardly been affected by the health crisis, continue to spend as before, sometimes even more. Their needs then become more ostentatious and creative, and they make their purchases purely for pleasure. On the contrary, the other customers who have been more drastically affected by the crisis have a different approach to spending. The House of Cartier recognised this a few years ago by developing products that are more affordable in order to attract and appeal to this new, often younger, clientele. It is therefore essential that the luxury sector considers new, more affordable lines while remaining consistent with the brand's identity and values.
The promising outlook of the Mariusse & Bonnet workshop
Since its creation, the Atelier Mariusse & Bonnet, specialising in exceptional jewellery, has drawn its strength from its independence, its know-how and its range of "coup de coeur" jewellery by offering prestigious, unique and high value pieces. For some customers, jewellery and precious metals and stones such as gold or diamonds are more reassuring, as they become safe investments in times of crisis. This is an important point for the Atelier as it also offers precious stones and diamonds for sale. The Atelier has been focussed on digital technology since its beginnings and immediately wanted its products to be accessible to everyone throughout the world. Thanks to its digital application launched online last June, Mariusse & Bonnet has become a real online workshop, where customers can buy, personalise or create their own jewellery. A world first in the field of Haute Joaillerie. But l'Atelier does not stop there, to complete this experience for lovers of French jewellery artistry, l'Atelier has introduced a digital certificate, like a card, where a printed QR-code provides the customer with all the information about his or her piece of jewellery after purchase. From design to manufacture, the history of the piece of jewellery can be found on it, as well as its certificate of authenticity and GIA certificate.
Nowadays and even more so in 2021, the customer wants to have an experience, to feel transported and to enter a real universe. These are the keys to success that Atelier Mariusse & Bonnet is developing and which elevate it to its place as an outsider in French Haute Joaillerie. If you wish to create your own piece of jewellery or acquire a stone, please download our application here: M&B App or contact us at contact@mariusse-bonnet.com, the whole team would be happy to help you with any queries you may have.
Sources : Journaldunet.com / lefigaro.fr / cbnews.fr / zonebourse.com / lesechos.fr