Audrey, a contemporary spirit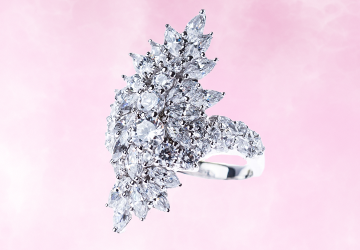 Audrey, a contemporary spirit
History
Both a name and a personality. The creations of the "Les Intemporelles" Collection are inspired by femininity and are a homage to the women who have played an instrumental role in the lives of the designers and the Atelier. For the Audrey ring, it is Philip Bonnet's wife who is in the limelight. A delicate tribute that reflects the inspirations, passions and personality of the person who has shared his life for many years.
With a clear design in mind, Philip sketched the Audrey ring in 2018 in just a few hours on a table in the workshop. With its clean lines, striking edges and resolutely contemporary influences, this piece of High Jewellery is a reflection of the strong character, determination and aesthetic codes espoused by his wife. The creation is an eye-catching and precious piece of jewellery with which to portray Audrey. Modern, feminine, and contemporary, transcending conventional jewellery know-how … in short, the Audrey ring is all of these things.
Characteristics
Entirely paved with 4.60 carats of FVVS diamonds and with a total weight of 14 grams, the Audrey ring is both precious and symbolic. In 18 carat White Gold, which brings a subtle and modern touch to this sleek design. Like a flower covering half a finger, this High Jewellery creation combines the graphic inspirations of Philip Bonnet and the floral universe of Christophe Mariusse. This unique ring, crafted entirely in Valence, is a one-off piece displaying the rarity of this jewel with its myriad of reflections. Featuring mostly marquise-cut diamonds, with a look that is very feminine and quite distinctive.
Covered with gems on the top of the ring, but also over half the band, this French creation shows the personality of Audrey Bonnet, as well as the craftsmanship and authenticity of the two jewellers. Both designers have chosen the most precious gemstones to complete the "Intemporelles" Collection, a collection inspired by love, admiration and feminine flair.
FABRICATION
Firstly sketched out flat by Philip, who is best suited to capture his wife's personality and singularity in a piece of jewellery, the ring is then reworked for many hours in order to perfect it. Paying homage to his wife and family, the Audrey ring is both sophisticated and technically intricate. After the ring has been represented in a drawing, the creation is then produced in 3D on a computer. This stage is extremely important, it allows the actual feasibility and dimensions of the ring to be verified. With one particularity, this unusual ring has an entirely openwork gallery in order to make it luxurious, pleasant to wear, but above all mysterious.
Equally beautiful when seen from all angles. Following this preliminary stage, the ring is approved and begins its journey to the Atelier. After many hours of work, the Haute Joaillerie creation becomes the Audrey ring, ready to be worn and to pay tribute to its muse.
To find out more, please visit the Audrey page of our website and if you would like to have a ring created just for you, please contact us at contact@mariusse-bonnet.com. Our entire workshop is ready to help you begin this exciting project.