CLAIRE, THE LUXURY OF HIGH JEWELLERY EVERY DAY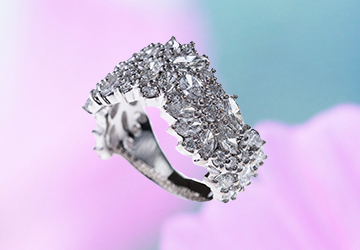 Claire, the luxury of High Jewellery every day
ITS ORIGIN
The story of this ring began in 2020, when two cousins and experienced jewellers, Philip and Christophe, decided to create a jewellery collection of exceptional and distinctly feminine designs. Paying tribute to the women who live by their side, support them and who they hold dear, the "Les Intemporelles" Collection is one of the most personal of Atelier Mariusse & Bonnet. For their wives, friends, or as a poetic celebration of women, diamonds were chosen as the most beautiful stones to adorn these creations that are so meaningful in the eyes and hearts of the designers. As a long-time friend, supporter and first customer of the Atelier, Claire's name needed to be featured in this feminine collection.
The subtle, understated design of this jewellery work of art represents everyday luxury and a passion for beautiful things, without being too ostentatious. The elegant, all-diamond setting adds a poetic touch to the hands of any woman lucky enough to wear it. This Haute Joaillerie ring, with its two heads, is a perfect example of the creative harmony so distinctive to the two co-founders of the Atelier.
CHARACTERISTICS
With its 2.95 carats of multi-shaped FVVS diamonds, the Claire ring is striking in its delicacy, attention to detail and charmingly simple elegance. Set in a very detailed manner, the high-quality craftsmanship of this design reflects the undeniable know-how of its creators. Made in France and more precisely in Valence, in the Drôme, the Claire ring is made of White Gold Palladium (750/1000°), an ideal shade of gold to enhance the beauty of the diamonds and bring out their incredible sparkle. As it was designed with the idea of being worn by their friend Claire, the ring needed to be delicate. With a weight of 9.90 grams, this 100% French ring is easy to wear and can easily be combined with other creations.
Since 2021, there is also another version of the ring, the Claire Brun, with 8.34 grams of jewellery-making expertise. This creation, which is identical in shape, uses both FVVS and brown diamonds for a total of 3.04 carats thus offering a different version of the Claire ring, an ode to femininity and modernity. Brown diamonds are rarely used to their full potential in the world of French Haute Joaillerie yet they bring warmth and colour to this piece and allow the Atelier to propose a unique, yet unexpected, creation to jewellery enthusiasts.
FABRICATION
The ring is handcrafted by Christophe Mariusse and is a demonstration of the quality, expertise and high standards of the Mariusse & Bonnet workshop. First of all, the design is put down on paper, a step that is under the exclusive care of the two cousins and co-founders of the Atelier. At this stage of the creative process, the important thing is to imagine a design which resonates with their friend Claire. Should it be exclusively made of diamonds? With a rounded shape? With classic cut diamonds? These questions are the starting point for this jewellery project.
Following this phase of pure creation, the ring continues the manufacturing process by being modelled in wax by Christophe's capable hands. Since the launch of the Atelier in 2019, this artisanal process has been carried out in-house in Valence. Sourcing gems, defining settings, polishing, all the different areas of expertise are present at the Atelier and ensure that Mariusse & Bonnet jewellery, such as the Claire ring, is both aesthetically pleasing and impeccably made. Before the ring is finally placed in its box, one last quality control check is carried out to ensure that this piece of jewellery meets the requirements of the jewellers and elegantly conveys the emotion that Philip and Christophe wanted to express to its future owner.
To learn more about this ring, go to the Claire page or contact us at contact@mariusse-bonnet.com. If you are interested in another brown diamond ring take a look at the Tylan Brun ring. Our entire team of jewellers will be happy to advise and assist you.