The interview : Marion – Jeweller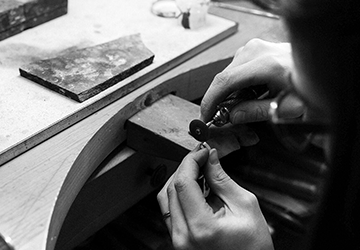 The interview : Marion - Jeweller
HELLO MARION, COULD YOU TELL US A BIT ABOUT YOURSELF ?
Hello, my name is Marion, I'm 25 years old and I come from a town called Châteauroux in the Centre-Val de Loire region. I left the region to begin my jewellery studies at IBS, the Jewellery Institute of Saumur in 2013 to start a Certificate of Professional Competence (CAP) then the following year I was able to continue on a work-study programme: with a specialisation in jewellery. It was also in 2014 that I entered the professional world, here at the Atelier.
I finished my studies with a National Diploma (Brevet) in the Art and Techniques of Jewellery-making at the Amblard Vocational School in Valence and I returned to the Atelier that trained me at the beginning of my studies.
WHY THE WORLD OF JEWELLERY ?
I have always loved working with my hands. Using my hands in a field that combines the strength and resistance of metal with the precision and patience needed in this profession. Transforming the raw material into something unique.
I also like the idea of repairing jewellery that has an important symbolic meaning for someone; to give it a second life is a bit like repairing the memory that is linked to the piece of jewellery.
WHAT IS YOUR FAVOURITE PART OF THE JEWELLERY-MAKING PROCESS ?
I like the soldering phase: it's in a way the most crucial and decisive phase, the one that must be as precise and neat as possible, that will be decisive when it comes to saying whether a piece of jewellery can be repaired if it's broken, that will join the elements of a new creation properly together, the one that ensures that the jewellery is solid.
WHAT IS YOUR ROLE AT THE WORKSHOP ?
I mainly deal with repairs and engraving, from simple chain soldering to engraving a portrait or a personalised inscription. I also do mounting and polishing on a regular basis.
YOUR FAVOURITE MARIUSSE & BONNET PIECE? AND WHY ?
The Spring ring with its vibrant colour and natural aspect. It is also the very first ring that I saw being created for the Four Seasons collection, the first to unfold, which makes it even more meaningful to me.
CAN YOU TELL US ABOUT ANYTHING THAT HAS PARTICULARLY MARKED YOU DURING YOUR EXPERIENCE AS A JEWELLER ?
With no shadow of a doubt, our participation in the creation of the most expensive bike in the world for the 2018 Cannes Film Festival! The frame of this bike was adorned with gold logos and letters set with sapphires and diamonds, such an enormous challenge !  The entire Atelier joined forces to pull off this incredible display of jewellery expertise that was showcased in the iconic Hotel Martinez on the Croisette.  It was an unforgettable experience, it's not every day that you have the chance to make such a priceless bicycle!
To learn about our team of passionate jewellers, check out our other blog posts and our Instagram account @mariusse_bonnet