The interview : Sabrina – 3D Designer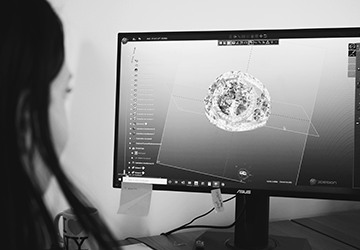 The interview : Sabrina - 3D Designer
HELLO SABRINA, COULD YOU TELL US A BIT ABOUT YOURSELF?
Hello, my name is Sabrina Guéret and I'm a 3D designer at the Mariusse & Bonnet workshop. I had traditional training and got my CAP and BMA (Certificate of Professional Competence and National Diploma) in « the art of jewellery and gems » at the Amblard Vocational School in Valence, then obtained another certification in gem-setting. After finishing my studies I first worked as a designer in a company producing decorative ornaments.
I then left this job and my home town for Besançon. I wanted to refocus my activity in the field of jewellery. It was there that I learned how to repair jewellery. A few months later, I left for Valence because I had the opportunity to work in the field that interested me the most: 3D design.
WHY THE WORLD OF JEWELLERY AND WHY 3D DESIGNER?
I was introduced to jewellery during a "discovery" work experience placement in secondary school. At the time, I had no idea how much work went into making a piece of jewellery. The tutor introduced me to the basic techniques. I started by making wax ring prototypes. I was shown existing models and had to make copies that were as close to the original as possible. Then I designed silver wedding rings from a simple ingot. It may sound simple, but I felt that in just two weeks I had managed to create some really beautiful items.
As a result of this work placement, I decided that I wanted to study in this field. My affinity with 3D design came during my last year of the BMA diploma. For the Baccalaureate exams, we had to do a project on a subject of our choice. It had to include hand drawings, gouaches, technical drawings… My jewellery teachers pushed us to use new technologies, as this tends to make a good impression on the jury. So they taught us the basics of CAD so that we could include 3D designs in our portfolio.
WHICH IS YOUR FAVOURITE STEP IN 3D DESIGN?
In fact, just the act of drawing. Generally, the first step in designing is quite similar from one piece of jewellery to another (the size of the finger for a ring, the size and shape of the stones to be placed…) then, the way in which the jewellery is put together gives it all its character. All it takes are a few carefully chosen touches to create an elegant piece of jewellery. It is very subtle.
WHAT IS YOUR ROLE AT THE WORKSHOP?
My role is prior to all the manufacturing phases. This is because I make the jewellery on the computer in order to design a model, but also to see its complexities and feasibility. As a general rule, I spend a large part of my time on the computer designing the different versions. As soon as all my 3D jewellery models are digitally created, I simply start printing my 3D waxes on a specific machine. After many hours of printing, I check my full-size model pieces on the machine every morning as if they were just out of the oven. And then, after a few (secret!) finishing touches, the components can be shaped in precious metal.
YOUR FAVOURITE MARIUSSE & BONNET PIECE? AND WHY?
Hands down, it's the "Winter" ring with its incredible diamond setting. I can't explain why, but when I slipped it onto my finger I felt it was right where it belonged, like it was made for me!
CAN YOU TELL US ABOUT ANYTHING THAT HAS PARTICULARLY MARKED YOU DURING YOUR EXPERIENCE IN THE JEWELLERY SECTOR?
I would have loved to have told some funny stories about some of the pieces I have had to make, but I think that the people who get the most laughs in this business are the engravers! After having seen some very curious things thanks to my colleague in engraving, I will let you try to imagine what they can be asked to engrave on the back of a medal or inside a ring… I can tell you right now, that some people are very imaginative!
To learn about our team of passionate jewellers, check out our other blog posts and our Instagram account @mariusse_bonnet