YSAL, BETWEEN TRANSPARENCY AND REFINEMENT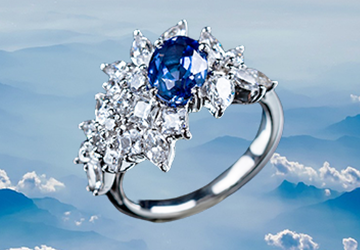 YSAL, Between transparency and refinement
ITS ORIGIN
The story of this ring began a few years ago, when Christophe Mariusse and Philip Bonnet decided to create a unique and precious collection on the theme of crystal. A material derived from glass, known for its luminous aspect, the two jewellers wanted to give it their "touch" by giving it a more luxurious meaning. After numerous designs, the Les Crystallines Collection was born and offers numerous creations, including the Ysal ring, unique with its sapphire centre.
With an innovative shape dotted with spikes, this French jewellery piece is reminiscent of crystals delicately assembled and fused together to create an extraordinary design. Asymmetrical, this ring, entirely made by four hands in the heart of the Drôme, is refined and assertive. This luminous creation from Valence captures the eye and transports all lovers of French Haute Joaillerie to an icy, translucent and poetic universe.
CHARACTERISTICS
Thanks to its 2.20 carats of GVS diamonds, the Ysal ring from the Les Crystallines Collection is brilliant, the main objective of this unique and feminine collection. In order to make it brilliant and easy to wear on a daily basis, Philip Bonnet and Christophe Mariusse have chosen to select high quality diamonds of different sizes. This jumble of stones makes it possible to be modern, to reflect the light perfectly and to make the creation shine with elegance.
The colour of the 18-carat gold chosen for this creation was also carefully considered by the two men who are passionate about their work. Having already had their little idea of the gemstone to be associated with this ring, pink gold was not flattering for the gem, yellow gold was not very modern, so white gold was the perfect colour.
Set with an 8x6mm oval sapphire of an intense blue, the harmony of colours on this creation takes up the codes of traditional Haute Joaillerie, while bringing a touch of modernity so important in the values of the Atelier Mariusse & Bonnet.
FABRICATION
At the beginning of the creation process, the two designers pool their ideas in order to combine their respective sensibilities in the service of the jewel. As soon as the general ideas are validated, Christophe Mariusse, head of the workshop, moves on to the drawing, a very important moment in order to visualise the ring and its technical characteristics.
Then Philip Bonnet looks for and selects the stones, in this case diamonds and a sapphire, necessary for the piece, ready to be created in the expert hands of the two jewellers. 3D model, casting, jewellery making, setting, polishing, all the trades are put to work in record time and independently to create a memorable piece, worthy of wearing the French colours with pride.
To discover the Ysal ring, go to the Ysal page or contact us at contact@mariusse-bonnet.com. Would you like to discover another ring set with sapphires? Discover the Hiver ring. Our entire workshop is at your disposal to start this promising jewellery accompaniment.